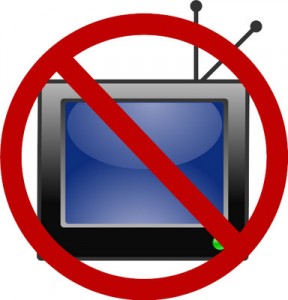 Have you ever heard of Dry January-where people stop drinking alcohol for the first month of the new year? Well, I'm not doing that.  While I can see the advantage of giving up booze for a month to jumpstart a weight loss resolution or just take a pause after too much holiday indulgence, it's not an area that is going to have a significant impact on my life.  So, what could I give up that might? Without a doubt, for me, it's television.
TV has been my bad habit for longer that I can remember. It's my pacifier.  It's my entertainment.  Even when it isn't that entertaining, somehow, it's a still a comfort.  This was particularly true when I was recovering from an awful fall 10 years ago that left the middle of my face broken and my teeth badly damaged.  It was the easiest, quickest (legal) escape and I definitely needed one!  Unfortunately,  it got me in the habit of leaving the TV for hours at a time whether I am actively watching it or not.
It turns out that I am not alone when it comes to excess TV viewing.  The average American watches over 4.5 hours a day.  It's kind of funny that most of us think we don't have enough time to get things done.  In reality, we have time but we choose to spend it watching other people doing things on TV.
I'm pretty sure I am not cool with that anymore.  So, I stopped watching TV on 12/31/22.  So far, so good.  It's only been a few days but last night for the first time since I can remember, I slept through the whole night from 10 until about 5:30.  Normally, I wake up between 1am and 3:15 am with my thoughts racing for 1-3 hours.  Also, I have actually been consistently reading.  I used to regularly read about two books a week.  Now, that's a habit I wouldn't mind getting back into again.
Stay tuned- I mean, check back in February to find out how this TV-free January Challenge went.  Better yet, take the challenge yourself and let me know what you discover!
– Cynthia Lenz,  January 4, 2023