Do you want to make a change, a BIG change in your life?  Are you ready for a new career, lifestyle, to start your own business or a big bold adventure?  Are you feeling too stuck or fearful to move forward with your dream?  Then read on to find out how Life Switch Coach Rebecca Tracey coaches her clients (and maybe kicks their asses a little) on how they can achieve their goals and create the life they really want.
Cynthia Lenz: So many people think that Joseph Campbell's "Follow Your Bliss" Concept makes so much sense but so few people actually do it.  Why do you think that is?  How would you advise people to be able to?  What are your top three tips?
Rebecca Tracey: Follow your bliss is really vague advice. When I hear that I don't even really know what it means! It sounds great conceptually, but it's not always easy figuring out exactly what your bliss is, let alone how to follow it. So my work with people always starts with helping them get really clear about what their bliss is (though I don't think I have ever used that word before!). What do they value? What do they believe about the world? What kind of life do they want?  So my best tips for people are 1) to get crazy clear about what's most important to you in life, and make sure you build that into your lifestyle 2) to do it your own way, and not try to copycat anyone else's life, and 3) to try different things out. You never know what you'll love and what you won't until you actually try it. I always say that "figuring it out" is not intellectual, it's experiential. You can't just sit at home and think about what you might like to be doing. You actually have to get out there and try it out, with no pressure, and see how it goes. Then tweak and change as you go.
Cynthia Lenz: I love tip #2 "to do it your own way, and not try to copycat anyone else's life."  Often, I think people get frustrated because they follow all the steps someone else laid out but it doesn't work for them because it's not authentic to whom they are.  Do you find a lot of people struggle with feeling it is okay to just be themselves?  And once they accept and enjoy themselves for who they are that life begins to open up for them?
Rebecca Tracey: Yes!! It's so common. We're all human. I have even struggled with this myself in my business. I wrote a really important post about this. (Click here to read Rebecca's post.) I find that when you really let yourself be exactly who you are, quirks and weirdness and all, you show up as a leader. All those things that make you who you are; are what people admire about you. So it's really a shame to hide or change them. They are also really good clues about what you are meant to do in the world. When you can tap into your strengths and natural abilities, you can start to do your work YOUR way, instead of always having to try to change to fit your work.
Cynthia Lenz: I love the way you communicate while unapologetically dropping F-bombs and incorporating slang expressions.  You manage to strike a nice balance, where other people sometimes come across as unprofessional or less knowledgeable when using similar language, you still sound clear and intelligent.  Were you ever hesitant about being so bold or fearful about being taken seriously with a more casual, in-your-face style?
Rebecca Tracey: I don't think I ever really thought about it. I was very conscious of not wanting to fall into the typical "life coach" trap of using language that feels airy fairy, and quite frankly, too vague for people to actually understand. So I decide to just write the way that I talk. Sometimes when I'm feeling really passionate about something, I swear more. When I'm feeling really grounded and grateful, I can be a bit more serious. I have a lot of different facets to my personality, and I knew right away that I wasn't willing to compromise on any of them. And I was never really worried about sounding "professional" because I knew that the people who would resonate with me, would resonate with ME, and that if I tried to be something I wasn't, they'd be sorely disappointed if they actually hired me. Now my ideal clients come to me, and they come with a really good sense of what I'm all about because it's right there on my site. Nothing to hide. It's probably the best way to attract clients that I know of!
Cynthia Lenz: Life-switch Coach is such a great title.  "Life Coach" sounds very broad but Life-switch coach implies imminent action.  Where did you get the idea from?  Did you coin the term?  If so, was there a moment that inspired it?
Rebecca Tracey: I think my very first copywriter actually came up with the title, and it kind of stuck! At the end of the day, I'm all about helping people switch up their lives for more exciting ones. Getting people out of ruts and into lives, they love, is what I've always cared most about, and that title just sounded way cooler than "life coach"!
Cynthia Lenz: Is there something that all your clients have in common beyond wanting to make a change? Maybe a common trait or experience…feeling?
Rebecca Tracey: Yep. My clients all want to start business, work for themselves, and be their own boss. They're sick of the 9-5, they dream of travel and adventure and time with their families and random Tuesdays off. My clients are total freedom seekers. But they're also super committed to making this kind of lifestyle happen. They understand that it's a lot of work and it's not all as glamorous as it seems, and they are willing to do what it takes to create it for themselves. That's actually what sets them apart from most people. They are willing to do the work.
Cynthia Lenz: Would you give me an idea of what your life was like prior to being a Life-switch Coach?
Rebecca Tracey: My life was, in a word, fun. (And it's still fun, I might add!). I was always a bit of a rebel and I hated the idea of working for someone else, so I managed to find ways to avoid work as much as possible. I traveled for several years straight after University, working odd jobs as I went. I'd often come home for just long enough to bank some cash, then I'd take off again on my next big adventure. I managed to live this life pretty easily, and even pay off $25000 of school debt in the process. I kept hearing from people how "lucky" I was, and I always responded with "This isn't luck. I chose this. I made this happen!" I eventually figured I'd have to get a real job at some point, and ended up in nutrition school (thinking I could start my own nutrition business). What I realized very quickly was that what I was really passionate about was helping people make a choice about how they wanted to live, how they wanted to feel. So I left the fine tooth meal combing to someone else, and I started my coaching business. My business now is a really sweet mix of all my strengths and skills and experience and values – and it's all centered around what I really believe about life – that it can be whatever you make it.
Cynthia Lenz: Do you have a client success story you could share where you got to celebrate a client reaching a goal that seemed impossible to him/her at one point?
Rebecca Tracey: I have one client who mentioned in passing on our first call that he wanted to write a book. It was one of his secret childhood dreams. It had nothing to do with what he was coming to coaching for. When he talked about writing I could tell how excited it made him. On our first call we talked about what it would be like to finally start writing, and he decided he would start that night. Within a few weeks he had written his first short story, and now, less than a year later, he has finished two novels and is looking into getting something published. It's been so cool to see him really do something that makes him come alive, and to also see how much he has learned about himself in the process. My job is so fun!
Cynthia Lenz: Do you have any plans for an "Uncaged Life" Book?
Rebecca Tracey: You know, you're the 4th person to mention a book in the past few weeks. I think the universe is trying to give me a hint. I'd love to hear what people would want to read about! It's on the long list of to-do's, but nothing in the works just yet.
Cynthia Lenz: Since my blog is all about being healthy and happy in a natural way, would you share what role nature plays in your life?
Rebecca Tracey: Oh wow. Well since I spent the majority of last year living in a van and rock climbing my way around the US, I'd say nature plays a pretty big role. I never thought of myself as an outdoorsy person (or a sporty person for that matter). But about 5 years ago my life shifted dramatically when my mom died suddenly. It sent me on the search for something, some kind of self-healing maybe?  I found my way to nutrition school. Long story short, I started taking really good care of myself: eating well, doing a lot of yoga, I stopped partying, started really making choices that made me feel good. Part of that included really dedicating myself to rock climbing. I fell in love with it, and it kind of took over my life (in a good way!). I now try to get outside as much as I can, whether it's riding my bike around Toronto (which is an adventure all its own), slack-lining in my local park, or climbing up north of the city on the weekends. It's so important for me to be able to get outside!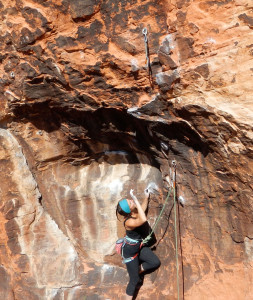 Ready for more Rebecca Tracey?  Check out her website www.theuncaged life.com.  She has a lot more tips posted and a free downloadable workbook to help you get started on creating the life you have been dreaming about.
Love and blessings to all,
Cynthia
Please follow me on Twitter.  Also, please LIKE my Facebook Page: www.facebook.com/naturallyhealthyhappy