I had originally planned a completely different blog post for this week but circumstances have taken me in a very different direction…
I was out Saturday to dinner with some new and wonderful friends.  We bid each other good night and I turned and bounded down the stairs at Penn Station.  I still don't know exactly what happened.  I do know I should have been holding the handrail but instead I went down the middle of the staircase at too fast a pace.  Maybe the stairs were wet from the bit of snow that fell but somehow I lost my balance and couldn't regain it.  I hurtled down to the bottom and fell face first on the cement floor.
Fortunately for me, I managed to do this in front of a few paramedics, who out for the evening as well and on their way to catch their own train.  I tried to pull myself up as the worst pain I have ever felt in my life shot through my face.  Immediately, strong hands held me down and a voice said, "Don't move.  Stay down hun."  A white t-shirt was put in front of my face to staunch the blood that seemed to be everywhere.
They asked me a series of questions: What is your name?  How old are you?  … I was conscious the whole time and answered their questions.  I saw one tooth shoot out of my mouth on impact.  I ran my tongue over the others.  My nice straight teeth were suddenly like a jack o' lantern's.  I started to cry.  A hand stroked my hair and a woman said "it will be okay".  Someone else bagged up my tooth and shoved it in my coat pocket.  An ambulance came a while later and I was rushed to a teaching hospital where for 2 days I was probed, pricked, tested, mri-ed and scanned in front of large groups of gaping interns.  Thankfully, I got out of there late Monday.
The current consensus is that my upper jaw is fractured but intact.  So, it may heal on its' own.  My nose is also fractured but that may heal on its' own as well.  My teeth met the floor through my lips.  They are currently stitched up inside and out.  I managed to joke this morning that it looked like I had a scorpion in my mouth with the end of its tail sticking out.
Oh but my teeth…  The Resident at the hospital refused to try to put my tooth back in after he heard it was on the floor at Penn Station.  I have several that are chipped, in the wrong position and there a few more that may not be saved.
I know it sounds a little vain to be focused on my teeth at a time like this.  After all, I was lucky indeed that I did not have any spinal damage or crack my head open.  Thankfully, my internal organs are fine.  I am also really fortunate to have support from wonderful family and friends.  To be honest though, I have cried every day over my teeth.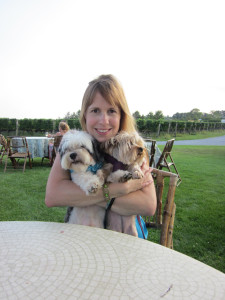 My smile wasn't perfect.  I had an overbite (now an under bite); it was a little gummy on the left side.  The thing is though, it was mine.  Now, it will never be the same.  Months from now, I will have a new one and that is a really weird concept to have to wrap your head around.
This is what I have learned so far from this experience:  1. Smile at yourself and everyone else every chance you get and be grateful that you can.  2. hold on to the fucking handrail when you are using the stairs!  I wish I had.  A moment of carelessness has changed me forever.
Love and Blessings to all,
Cynthia
Follow me on twitter! My handle is @cynthialenz and LIKE my FB Page www.facebook.com\naturallyhealthyhappy