I have a birthday present to make for my friend, Sylvia, who I will be seeing later.  So, I am going to share one of my passions with you today.
I started making jewelry almost 15 years ago.  I had a naval ring at the time and wanted to change the bead on it.  Being too… thrifty to pay $10 bucks for a bead change at the tattoo place, I decided to buy a bead and change my own.  It's very difficult to buy one small bead.  So, I bought a package.  Since I only needed one for the purpose at hand, I decided to get some beading wire and fasteners to make use of the rest of the package.  I was hooked on making jewelry immediately!
I made pieces for myself that other people really dug.  So, I started making jewelry for friends, coworkers and family members.  The more I made, the more I wanted to make.  My pieces began to get quite interesting and complex.  I started selling my all-original jewelry under the name Chickyrhumba (a nickname my mom had for me when I was little) in 2006.  I had just begun to do quite well and then the economy tanked.  Understandably, original, handmade jewelry wasn't a priority for people to purchase at that time.  I closed Chickyrhumba in 2012.  The truth is I never enjoyed selling it as much I enjoyed making it.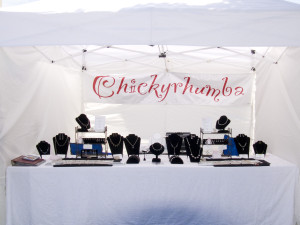 I took the big tumble down the stairs a few months later, so I didn't make jewelry for much of 2013.  When finally I started again,   it was just like it was in the beginning.  I LOVED it!  Making jewelry gets me down into my hands and keeps me from over-analyzing anything that may be going on in my life.  I would definitely describe it as a form of meditation.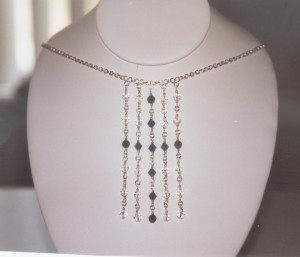 It's such a delightful one because it is so sensory.  I love feeling the smoothness of the stones.  I enjoy looking at all the colors and natural variations in gems.  Bending wire into submission can be like therapy!  I also love getting vintage beads and remaking them into something new.  I guess most satisfying of all is being able to see the fruits of your labor.  Executing something tangible from start to finish that I can give to someone else makes me very happy.
Ah done!  Do you think Sylvia will like it?  I hope so.  I know I enjoyed making it.
Do you have any hobbies or passions that you need to make more time for? Leave me a reply in the comments section.  I would love to hear from you.
Many blessings,
Cynthia
Please follow me on Twitter.  Also, please LIKE my Facebook Page.