My Plant-based Life: Part Three (So long Cheese!)
Chronic Fatigue Syndrome reared its' ugly head again in December of 2009 when I was exposed to mold after moving into an apartment on the top floor of a building, that was about 20 years overdue for a new roof.  I got really sick for the first time since going veg.  After the acute stage passed, I was left with a chronic cough that I couldn't shake.
I got out of there before the end of 2010 but my move coincided with a colossal bunch of events including my business being in its death throes, starting a new full-time job with long hours and a long commute, as well as, a professional project I had begun working on that went sour and took down several friendships with it.  I was dog tired and sad for several months.  I began getting random pains in my joints.  I was also suffering from severe insomnia at times. (As I mentioned in a previous post Yoga Nidra was very helpful in treating my insomnia.)
I got some temporary relief in the summer of 2011 by taking SAM-e.  S-adenosylmethionine is a dietary supplement that has been shown to be effective in treating arthritis, depression, fibromyalgia, MS and chronic pain.  My other big helper was adopting a four-year-old, hairy Havanese named Chauncy.  Chauncy is the kind of dog twho makes every day, a good day.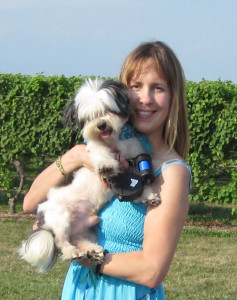 I was still tired and my little cough persisted though.  I was hacking up great big gobs of phlegm several times a day.  I was also bloated again.  I looked like I had a bowling ball in my belly which was hard to hide with clothes.  Things got to a pivotal point in February of 2012 after I put on a seminar at work, I went home and slept for almost 15 hours straight.
I decided to take stock of my lifestyle.  I noticed my diet had gone down the crapper for several reasons: 1) I got caught up in couponing to save money and was only buying things that were on sale.  My diet mostly consisted of the only dairy I was still eating: cheap yogurt and hunks of sale-priced cheddar.  I had stopped cooking.  My dinners, after getting home late at night, were usually a hunk of cheddar, a glass of wine and bag tortilla chips with salsa. 2) My yoga practice was non-existent.  If it wasn't for walking Chauncy twice a day, I would have gotten no exercise at all.  I knew I needed to make big changes again.
I hit Trader Joe's and Whole Foods and bought every beautiful whole food that called out to me, regardless of price.  I felt better just looking at all that colorful fresh produce in the cart.  (I also went to the Farmer's Market every week to get local, fresh produce all summer long.) I began studying nutrition again too.  I wanted to see if there was a natural way to deal with how I was feeling.  The library was calling every day with books and DVDs, I had reserved on the topic. One thing that kept coming up over and over was adding in more raw food.  Raw food, especially greens, cleanse the body and provide micronutrients.  I now try to eat over 65% raw fruits and veggies in my diet. (A particularly moving documentary on the power of raw food is Simply Raw: Reversing Diabetes in 30 Days.)
The most profound change I made was giving up dairy completely.  I had long suspected that it was contributing to my upper respiratory issues but I LOVED cheese.  I used to joke that I was a cheese addict.  Then I saw Dr. Neal Barnard's lecture on the addictive properties of chocolate, cheese, meat and sugar… turns out I actually was.  Cheese, according to Barnard, contains concentrated amounts of casein, "a protein that breaks apart during digestion to release a whole host of opiates called casomorphins."
Giving up cheese was no joke.  I was a hardcore, daily user.  Brie, cheddar, Havarti, Fontina, raw, goat cheese…oh, it didn't matter what kind, I dug all of it.  I am embarrassed to admit this, but I actually got weepy at the thought of never having it again.  I even went through withdrawal-type symptoms.  I was cranky, jittery and got headaches.  Then this amazing thing happened a few weeks after I stopped eating it; I started to feel great.  My sinuses cleared up.  I also stopped hacking up phlegm all the time and I was no longer bloated.  The mental haze and fatigue lifted.
So, there you have it.  I have been completely plant-based since March of 2012.  Am I vegan though?  Read my blog next week and find out.
Love and blessings to all,
Cynthia
Please follow me on Twitter.  My handle is @cynthialenz.  Also, please LIKE my Facebook Page: www.facebook.com/naturallyhealthyhappy