My birthday has never been a convenient day to celebrate. When I was a little girl, my birthday parties were rarely looked forward to because it meant summer was coming to a close and school was starting soon. As I got older, many friends and family members would be away because it falls on or near Labor Day weekend. So, I have gotten quite used to not celebrating on my actual birthday. This year looked like no exception, as it fell in the middle of the week.
I knew I was going to be alone on my birthday and honestly, as an introverted person, that is absolutely fine with me! I like spending time with people but I also need, make that NEED, time alone. So, normally, a day to myself: to read, practice yoga, write, be in nature, make jewelry or some other artsy-crafty project would suit me down to the ground. However, since it was my birthday, I wanted to do something to celebrate. I decided the best way to do that was to make it a day of gratitude and giving.
My first stop was Target. Since I started all this dental work, my monetary donations have dwindled. So, when I got a gift card from the sales guys at work for Target, I decided to buy food to donate to a local food pantry. I was inspired by Mimi Ikonn's birthday video for this first deed. (Our plans diverge after that. She gave people free hugs.  I'm … not a hugger.) I went over the limit for the gift card but it was worth it. I was pretty happy with my haul: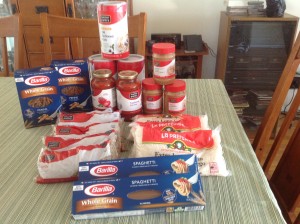 I also may have gotten a treat for myself.
Okay… two! (It was my birthday after all.)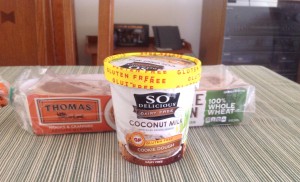 When I returned home, I wrote out a list of 100 things for which I am grateful. I won't be sharing this (you're welcome!) It is a really good exercise to do, especially on a birthday. We are trained by advertisers practically from infancy to think about what we are going to receive on our birthdays. It's worth taking a moment to appreciate all that we already have.
It's funny. The landscaping guy broke my car window by accident the day before. Initially, I was pretty annoyed that my birthday was going to start at the glass place. Then I gave myself a little smack-down. How many people in the world would love to have a car in the first place? How many people would love something to eat on their birthday? "#1stworldproblem, Cynthia Lenz! Get over it!"  And I did quickly.
I decided not to keep all my gratitude to myself.  I wrote out a card to one of my friends expressing how pleased I was to have such a good friend in my life. It was a lot of fun mailing a card to someone else on my birthday. How nice is it to get an unexpected bit of appreciation in the mail? At that moment, knowing I was doing something to bring a bit of cheer to someone else, which no one else knew about, was a gas! I think it will be a new tradition. Thankfully, I have a lot of other people in my life to send cards to.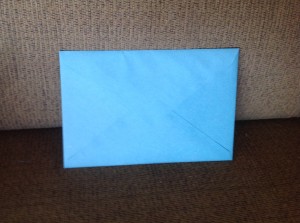 After I mailed the card and dropped off the donated groceries, I was hungry. So, I had some lunch. Then I took a nice, long nap. Highly recommend a birthday nap, by the way.
My last act of goodwill was to make banana bread for everyone at work the next day. Judging from how often I see people at the vending machine, I figured an unexpected homemade sweet treat would be appreciated.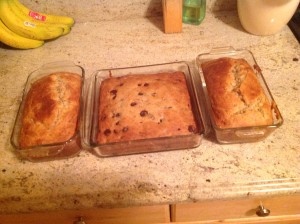 While the banana bread was in the oven, I sat down to eat dinner. I poured myself a nice glass of sauvignon blanc. The wine was a gift from my buddy, Jack, at work. I told him I would toast to his health and prosperity on my birthday and I did.
I really enjoyed my different kind of birthday. Birthdays have a special energy to them. They remind us we were given the gift of life. Think of what it would be like to never have existed. Impossible! I don't mean to sound like Pollyanna. Life is really REALLY hard sometimes. Having a little awareness of the beauty, that is all around us every day, makes it much easier to endure those challenges. What better way to celebrate it than by creating a little beauty for others?
Many blessings,
Cynthia
Please follow me on Twitter.  Also, please LIKE my Facebook Page.