It took me a very long time to find an eye make-up remover that I liked.  A lot of them would sting my eyes or leave my skin chafed.  I found I really like the make-up remover wipes from Trader Joe's but they were quite pricey. There were only 20 in a pack, requiring me to buy 2 a month.  All that plastic packaging and disposable material made me feel a little guilty.  So, I decided to try to make my own.
I culled through dozens of Do-it-yourself recipes on the internet.  They were wildly disparate and contradictory at times but three ingredients kept coming up over and over: witch hazel, water and some kind of oil.  Of course, I could find little consensus on how much to pour of each in order to make a bottle.  So, I decided not to use a bottle at all.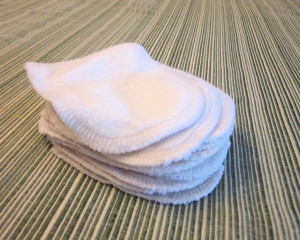 I use a reusable round (mine are made out of bamboo and are really more oblong) and I put a drop of jojoba oil on it, followed by a drop of witch hazel and then I spritz it with rose water.  And voila! It works great and doesn't sting.
Effectiveness is only one benefit.  There are others. I like keeping all these ingredients separate because I use them all separately as well.  By combining them as needed, on the spot, I am less likely to run out of anything and not have it available to use for another purpose.  Oh my goodness, the money you save!  I used to spend between around $10 a month on those wipes.  I have had that bottle of witch hazel for years.  Jojoba lasts a really long time too because you need to use so little of it.  The rose water I go through fairly quickly but that's only because I like to spray all over my body from head to toe.
Do you think you will give it a try?  Do you have your own formula?  Leave me a reply in the comments section.
Many blessings,
Cynthia
Please follow me on Twitter.  Also, please LIKE my Facebook Page.